Yes, Teh Puppy went to the All Hell Breaks Loose Australian Supernatural Convention over the weekend and got to meet Jensen Ackles, Jared Padalecki and Misha Collins!!! WOO HOO!!!!! They are all totally awesome guys!!!!
So how did I get a hug? Well, both days they had auctions. Both Jensen and Jared were given a plain white tshirt and a pen and set loose. Day 1 they were done separately, as the boys were not onstage together. Jared's shirt, which was auctioned first, sold for $1,200. Then, after Jensen's chat with the audience, it was time for Jensen's shirt. I tried, honest I did, but I hadn't really had time to work out how much I could realistically pay, so I dropped out at $2,000. At that time, there had been just two of us bidding, so they asked our names. I gave my real name, but also told them Sick Puppy. LMAO, in spite of saying she'd stick to my real name, the woman doing the auction quickly slipped into calling me sick puppy. :-) I was glad it was the girl who had originally bid against me that got it, as I would have been a little pissed if the 'latecomes' to the auction had got it. She got a big hug from Jensen!!!
So, day two and I had sat down the night before, determined to win that tshirt. Jensen and Jared where on stage together, so they decided to do the auctions after they had finished chatting. Misha came up on stage to help out. So, someone bid $100. I went straight to $500. Misha was doing his best to get another bid, but no one was bidding. LMAO, being the sick puppy that I am, I knew that was nowhere near enough, either for Jensen or for a very worthy charity, the Starlight Foundation, so I thought 'the hell with it' and bid higher. Misha was laughing at me for bidding against myself, but that's mkay. :-) I did kickstart the bidding. I was starting to get a little worried and the girl beside me (Laura) kept asking me "What are you going to have to sell to buy this?" but I wasn't ready to give up. When they called out "Sold!" and it was my bid I just sat there stunned. I had won the tshirt!!!! LMAO, Laura had to poke me and say "Go up and get it!" before I moved. Then I threw down my camera (it's mkay, it landed in my bag) and ran up onto the stage, straight to Jensen. No, I was not one bit nervous, coz the only person I could see at all was Jensen. I swear, I was totally oblivious to all the people in the audience watching me! He showed me the shirt, which now read "i'm with stupid" and had a big arrow on it. He had held it up so the arrow was pointing to Jared.
Misha had a quick look before scooting round to the other side of Jensen so he could laugh at Jared. He had also written Art by: and signed it. I asked him if he would write Sick Puppy on it for me and he did. Then he handed me the shirt and it was time for my hug!!!!
OMG!!!! It was a full on, real, two arms around me and squish hug!!!! It felt like it went on forever!!! I can still close my eyes and feel Jensen's arms around me!!! Oh yeah, teh Puppy is having some seriously happy dreams, now!!! And all this on stage, with everyone watching!!!! It was amazing!!! I swear to you all, I had two separate fans come up to me after asking to have their photos taken with me!!!
After that it was time to go get signatures on my pictures with the guys. (Will tell more about the photo sessions later.) First, I got to go to Misha. I had two photos of him and me to get signed. People had been telling us all the time not to ask for personal stuff, but since Misha was so sweet, thanking me and all, I thought "what the hell" and asked Misha "Can you write sick puppy on one of them?" I was totally unprepared for what he wrote!!!! here is the scan of it.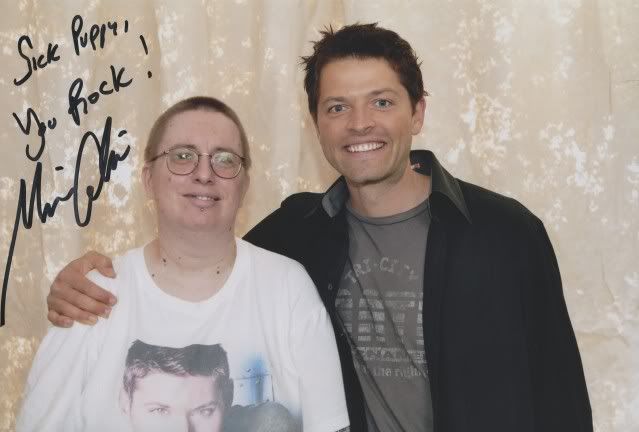 When I moved on to Jensen, I had tickets for 1 signature (I got two the previous day) and a joint Jensen/Jared one. I handed him the pic of him and me and the sandwich shot of me with him and Jared. He was so sweet, thanking me for buying the tshirt. I told him "No problem, the hug was worth it!" LMAO, I actually had to repeat it for him, then he went all shy and bashful. :-) I didn't want to push my luck, so I hadn't asked him to write anything on it, but he grabbed the sandwich shot and straight away wrote To Sick Puppy before signing it. When I handed it to Jared, he first off just signed his name. Then he had a look and saw what Jensen had written, so he went back and wrote Sick Puppy above his signature. :-)
Here's the scan of my sandwich shot.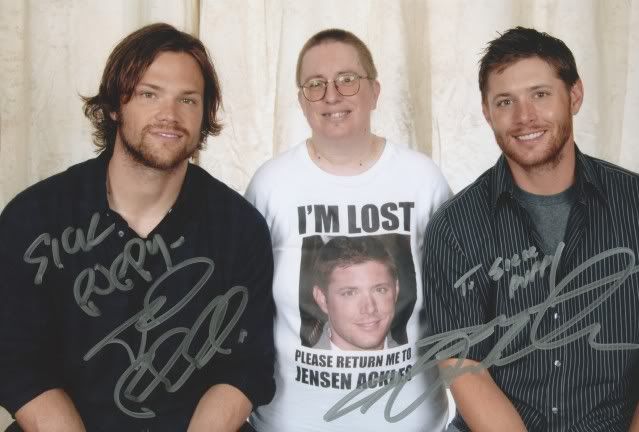 As there was a brief lull for Jared, I was telling him about people wanting there pic taken with me and told him I should start charging people. He told me "Why aren't you? You're famous now."
Tags: jensen ackles, ozcon
Current Mood:
ecstatic